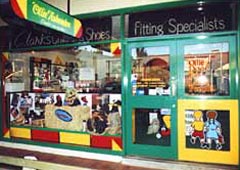 In your child's lifetime, their feet will carry them a distance almost the equivalent of three trips around the world. That's a pretty long way…you'll want to look after them.
At Ollie's we don't just sell shoes, we fit feet.
We carry a wide variety of local and imported brands and styles for all occasions in varying price ranges.
Come in and see us and put your child's feet in our capable hands.
News
SPRING/SUMMER RANGE
Our new Spring/Summer range has arrived. Keep an eye on our Facebook for pics and new stock announcements.
LATE NIGHT TRADING
We are taking a break from late night shopping on Thursdays and will close at 5.30pm on Thursdays from the 27th of July. We will reassess this in a few months when it is warmer and lighter! If Thursday night is the only time you can come in, please contact us directly on 08 8267 1105 and we will do our best to accommodate you.
LET'S GET SOCIAL…
Follow us on Instagram and Facebook for pics, tips, stories, new stock arrivals, sale news and special offers.
SOLES4SOULS SHOE DONATION
For the last 4 years we have been supporting charity organisation Soles4Souls, donating and collecting new and gently worn shoes for redistribution to those in need locally and overseas. In 4 years we donated/collected 5,070 pairs and we couldn't have done it without you, our wonderful customers…so thank you! Soles4Souls will now be taking an extended break until further notice. As a result we are no longer able to accept shoe donations…but watch this space for future announcements.
POSTAL ORDERS
Although it is preferable to bring your child in to ensure the best fit, we understand this is not always possible and we're happy to send shoes out to you. There's a bit of a trick to finding the right size but give us a call on 08 8267 1105 or send us an email (info@ollies.com.au) and we'd be happy to explain how it's done. Of course, if the shoes don't fit we'll gladly refund or exchange them for something that does.
SCHOOL SHOES
Check out this clip from Today Tonight featuring Jan and podiatrist Daniel giving their expert opinions on the importance of good quality, properly fitted school shoes.